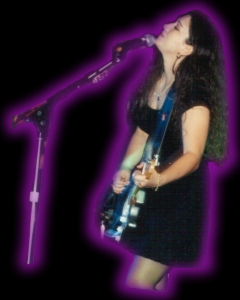 Tiffany Poinsett
Lead Vocals, Guitar
tiffany@deadbeats.org
Tiffany founded the Deadbeats in Lake Jackson, just south of Houston, TX. She was a very influential part of the community there, performing at various schools and functions on behalf of alcohol and drug awareness. Later, she and the band moved to the Dallas area. In early 1999, Tiffany founded the Women Rockin' 4 Women Foundation, an organization of women musicians benefiting shelters for victims of domestic violence.
Recently, Tiff has joined forces with some of the best female musicians in Dallas to form an all-girl band called Strawberry Curl.
Being the sole songwriter, Tiffany is the heart behind the Deadbeats. With influences like Tori Amos and Sarah McLachlan, Tiffany's songwriting is both soulful and inspirational. Even though she has almost 60 original songs, she continues to play and write everyday. If you want to know Tiffany, listen to her music.
Favorite Bands: Frognot, Kittenwhip, Triprocket, Generika, and The Tiffany Shea Band
Secrets : She loves The Spice Girls and Xena
---
Return to Deadbeats Home Page
For additional information on Deadbeats, contact us.
Legal Notice

---